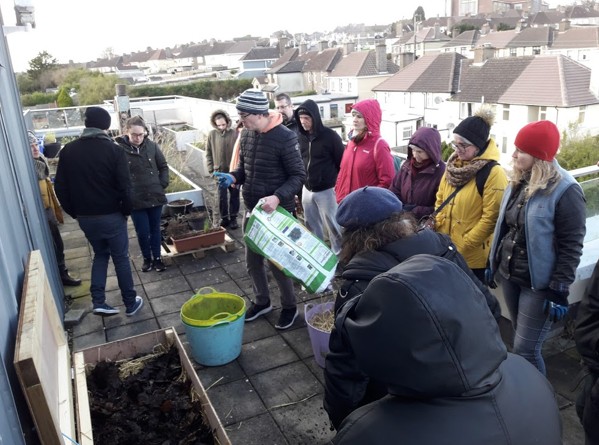 The Hut Rooftop Garden
Weekly drop in to volunteer and maintain the rooftop garden –
The Hut Rooftop project – on the terrace on top of one of the Northside's most distinctive buildings – is a place for local community workers and local gardeners to plant, hang out and meet-up.
The garden is maturing and as well as providing a great space to grow, is available for one-to-one chats for people availing of the community support resources available in The Hut. It is also a great place for workshop on green initiatives.
Mens club
The Gurranbraher and Churchfield men's club was started by Martin Ahearn Rip and is a strong group who meet weekly at the Parochial hall in Churchfield listen to music have the craic and play pool. The groups goes on regular day trips facilitated by Community Garda and also play itch and putt . the re is a strong folklore theme and the groups regularly reminisces over photographs of corks golden days.
Men's swim at Leisureworld
You are welcome to join for a Men's swim — Weekly reduced rate swim €2 for contact Community Health Worker for details –time slot is Wednesdays 12-1 at Leisureworld quoting Health Action one —
Bowling
Bows clubs meet Tuesdays and participate in local leagues. Pictures to follow.
Shandon haz band
The Shandon HAZ Band practices weekly at the Hut and contribute to local entertainment scene. – the band play monthly regular dates across the Citys Northside community centres, health centres and nursing homes. The band facilitates a group of men to focus on songs and providing music to the community.
Gurrnabraher and Churchfield Green spine initiative
Get involved in the local community enhancement project – with many local groups involved ou r aim is to make small improvements over a long period to enhance our areas through fun and creative local imaginings.
Gurranbraher ladies walking
Gurranbraher ladies walking –activities include chair yoga, days out with community Garda and monthly meet and mingle —
Meets Wednesdays at 2 o clock at The Hut  – to walk locally
On the new Slí na Sláinte  green route –
Launch to come in 2021 for the new green route and yellow routes
The Wellness Walk and Memory Trail in St Marys Primary HealthCare Campus, Cork.
The walk measures 1.25km and approximately 2000 steps and offers staff, surrounding communities and service users opportunity to add to their daily exercise and sense of overall wellbeing on St Marys Health Campus. A big part of the walking signage includes a memory trail element with extracts from interviews taken as part of the 'Memories of the Orthopeadic' project with Cork Folklore Project displayed on each panel along the walkway.
These are memories of past staff of the Orthopaedic Hospital as well as service users and local people who have memories of the Orthopaedic Hospital of the past and can now enjoy these memories as part of a new and developing primary care facility in St Marys Health Campus. The broader signage scheme includes many health messages including #Littlethings National Positive Mental Health messaging which speaks to things we can all do to promote our own and others positive mental health.
Facebook @healthactionzone
Photos from Health Action Zone's post Roses and strawberries showing their colour in the glen community garden
Photos from Health Action Zone's post Plenty of colour about with mixed salad bed and climbing frame for peas and beans all adding to the wide selection already thriving I the glen community garden
Fairy fort for preschool children to enjoy thanks to Barry,gordon, and niamh in the glen community garden
Health Action Zone is feeling excited.
Mobile Uploads If you are diagnosed with COVID-19 or receive a positive test results, this is what you can do to protect your friends and family ⬇️
Timeline Photos COVID-19 quarantine can lead to loneliness, especially for older people and people who live alone.
Stay connected with other people via telephone, social media or online communities to maintain your mental health
Timeline Photos 3 factors can help you make safer choices in areas where COVID-19 transmission is widespread:
📍Location
↔️Proximity
⏲️Time
Our Parks staff are erecting new signage at a number of our amenities today such as the Lough and Bells Field. Enjoy our Parks and walkways but please respect other park users and residents
#leavenotrace
Photos from Health Action Zone's post Celebrating national garden day with a mix of veg,flowers,new raised beds and our very new bug hotel best wishes from the glen community garden
Happy Workd Autism Day to all our families, Friends & Autism community. We celebrate and promote positivity everyday here at Rainbow Club. Since 2011 as a Team we Raised vital funds for school units and to date we have contributed ...
Photos from Health Action Zone's post The colours of nature for all to share happy Easter from the glen community garden