Mens club
The Gurranbraher and Churchfield men's club was started by Martin Ahearn Rip and is a strong group who meet weekly at the Parochial hall in Churchfield listen to music have the craic and play pool. The groups goes on regular day trips facilitated by Community Garda and also play itch and putt . the re is a strong folklore theme and the groups regularly reminisces over photographs of corks golden days.
Men's swim at Leisureworld
You are welcome to join for a Health Action Zone swim — Weekly reduced rate swim at €2
Contact Community Health Worker Micheál for details –time slot is Wednesdays 12-1 at Leisureworld
Why not join us at 10.30am at Leisureworld for a community walk followed by a swim??
Confidence in swimming courses and learn to swim lessons are available to link in with at Leisureworld.
Bowling
Bowls clubs meet Tuesdays and participate in local leagues https://www.corkindoorbowls.com
Short mat bowls is a very low cost sport played indoors on special carpets. Contact for further information on local groups.
Shandon haz band
The Shandon HAZ Music group practices weekly at the Hut and contribute to local entertainment scene. The band play monthly regular dates across the citys Northside community centres, health centres and    nursing homes. The band facilitates a group of men to focus on songs that improve their health and wellbeing while also providing community music at local events.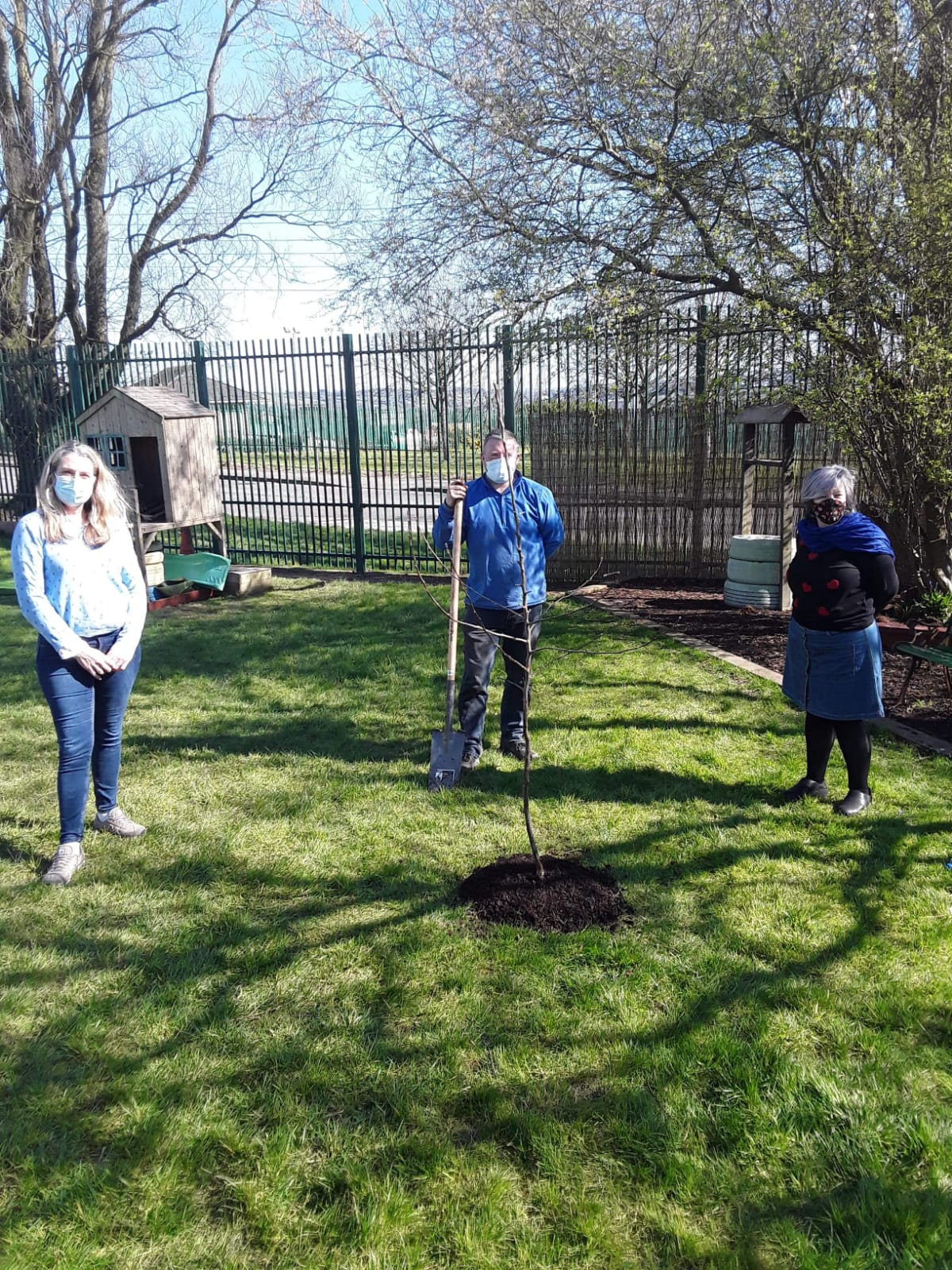 Gurranabraher and Churchfield Green Spine Initiative
Get involved in our local community enhancement project – with many  local groups and individuals.  Our aim is to make small improvements over a long period to enhance our areas through fun and creative local imaginings and sustainable activities. partners across the area – The Hut Youth Project, Scoil Padre Pio, Parochial Hall, Trees please at the allotments, Churchfield Community Trust, B45, Leisureworld, St. Marys Primary Care Campus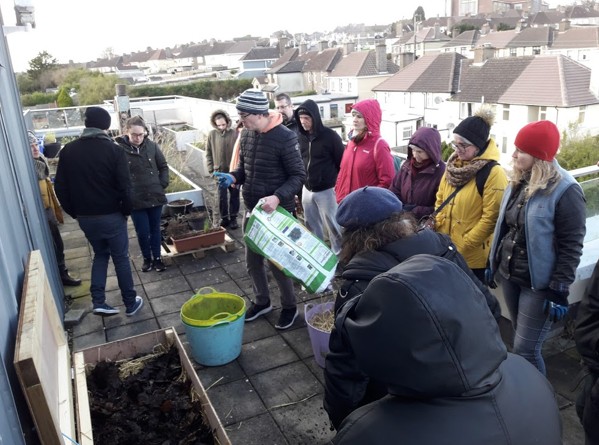 The Hut Rooftop Garden
Weekly drop in to volunteer and maintain the rooftop garden –
The Hut Rooftop project – on the terrace on top of one of the Northside's most distinctive buildings – is a place for local community volunteers and local gardeners to plant, hang out and meet-up. as part of the green spine initiative the space provides an expansive space for groups to be creative.
The garden is maturing and as well as providing a great space to grow, is available for one-to-one chats for people availing of the community support resources available in The Hut.
It is a great place that is available for workshops and outdoor meetings.
Gurranabraher Woman's Social group
Gurranabraher woman's social group – activities include walking, chair yoga, days out with community Garda and monthly Meet and Mingle — tea and chats
Meets Wednesdays at 2 o clock at The Hut  –
The Wellness Walk and Memory Trail in St Marys Primary HealthCare Campus, Cork.
The walk measures 1.25km and approximately 2000 steps and offers staff, surrounding communities and service users opportunity to add to their daily exercise and sense of overall wellbeing on St Marys Health Campus. A big part of the walking signage includes a memory trail element with extracts from interviews taken as part of the 'Memories of the Orthopeadic' project with Cork Folklore Project displayed on each panel along the walkway.
These are memories of past staff of the Orthopaedic Hospital as well as service users and local people who have memories of the Orthopaedic Hospital of the past and can now enjoy these memories as part of a new and developing primary care facility in St Marys Health Campus. The broader signage scheme includes many health messages including #Littlethings National Positive Mental Health messaging which speaks to things we can all do to promote our own and others positive mental health.
Facebook @healthactionzone
Our Winter Self Care Event is now fully booked, but there might still be a chance to attend if you join the waiting list.
Photos from Health Action Zone's post A lovely festive morning in Churchfield making our Christmas Wreaths......its beginning to look lot like Christmas 🎄
Photos from Health Action Zone's post Another busy afternoon in St. Mary's Health Campus. If you feel like joining us next Wednesday just give Ailish a text or call on 087 0979707!
Photos from Health Action Zone's post Great morning at our Board Making Workshop with Blackpool Library 😁
Photos from Health Action Zone's post Some pictures from our Tea Dance yesterday. Plenty of laughter, dancing, singing and of course it wouldn't be a Dance without the Slosh.
A great afternoons work in St. Mary's Campus. Come join us next Wednesday. No experience necessary and all equipment provided. Just contact Ailish on 087 097 9707
Photos from Health Action Zone's post We are here in Blackpool library with grandparents and grandchildren at our annual Boardmaking workshop. We have a few spaces left for the 25th 10am. Book with Liz madden community health worker 087-6977942. No charge
Come along to our bulb planting in St.Mary's campus on Wednesday afternoons. Gloves etc provided, no green fingers necessary to join 😁
Walking group starting Monday the 20th of November, all levels welcome. Come along for exercise and connection. Tea/Coffee afterwards 😊
Chair Yoga starting on Tuesday the 21st of November at 2pm in the Hut, contact Ailish to book a place.
Photos from Cork Sports Partnership's post Fantastic news. Can't wait to take our activator poles and try out this trail.
Photos from Health Action Zone's post We finished our Singing for the Brain Ireland sessions in Blackpool Community Centre Cork last Wednesday. Huge thank you to all participants and our fabulous music facilitator Linda O Halloran who kept our spirits up for the entire programme. ...
We enjoy this Annual event so much. Free Boardgame making workshop for Grandparents and Grandchildren. Refreshments included. Very limited places. Contact Liz Madden to book 087 697 7942
Time flies when your having fun. Our final week in this 6 week block of Sing for the Brain in Mayfield had an ABBA theme. Plenty of costumes fun and of course singing.
Photos from Health Action Zone's post Get Active Get Connected Gelliprintmaking facilitated by Mayfield Arts. We had a beautiful afternoon exploring the world of print making. A huge thank you to the two Deirdres for the great welcome, the direction and the laughter. Always good to ...
Photos from Health Action Zone's post Mayfield Flower Arranging group getting into the Halloween spirit with this beautiful display. They meet every Tuesday at 11am. New members always welcome no experience required. Contact Fidelma O'Connell Community Health Worker on 087 1800210 for further details.
Blackpool Social Gardening Group, Cork City https://www.youtube.com/watch?v=2lsK7PCCQ7o Always looking for Volunteers Tuesdays and Fridays 2pm - 4pm all welcome.
Lord Mayor of Cork launches first ever National Allotments and Community Gardens Week! - Community... Great day last Saturday in the Glen.
Photos from Health Action Zone's post A great turn out for our Gat Active Get Connected event today. A very informative talk by Dr Rosarie Crowley Clinical Psychologist on Positive Mental Health for Older Adults.