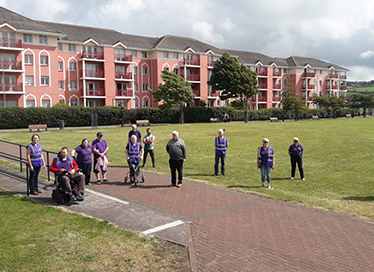 Youghal Happy Feet Walking Group-Monday 11am
This is a very open and inclusive group and welcomes young and old alike. Each week we venture out on a 40minute walk followed by a cuppa and a chat. You walk at your own pace and we always ensure you have someone to keep you company, Happy Feet meet weekly on Monday mornings at 11.00am at the Youghal Community Health Project.
Members of the group have participated in a number of planned national events such as Operation Transformation; Darkness Into Light; Emer Casey Walk; Cork Mini Marathon.  The group also host and travel out to 'Meet & Mingle' events; these are planned walks with other community health project walking groups in their respective areas. In 2020 the Happy Feet walking group hosted a number of virtual walk challenges and raised valuable funds for the Cardiac First Responders.
Fermoy Walkie Talkies Walking Group
Monday 11am & Tuesday 2.30pm
The
Fermoy Walkie Talkies are a social walking group. There are two groups depending on your walking ability.  The Monday morning group meet at 11am.  This group is for people who enjoy walking with others at a steady, but brisk pace.
The Tuesday afternoon group meet at 2.30pm.  This group is for people who enjoy a nice slow and easy stroll in good company.
Both groups are very open and inclusive and welcomes young and old alike, and you will always find someone to chat to along the way.  Routes are accessible for buggies.  New members are always welcome.
We also host and travel out to "Meet and Mingle" events; these are planned walks with other community health project walking groups in their respective areas.  Our group mascot is called "Scottie".
To join one of these groups please register in advance by contacting Jacinta McCormack, Fermoy Community Health Worker on 085 8742320
Mallow Walking Groups
Tuesday Cool Walkers 11am,Wednesday Strollers 11am
Strollers Walking Group
We meet every Wednesday morning at 11 am. Nice easy stroll, in good company with interesting people in beautiful local locations. Get to know more about what is happening at Mallow Community Heath Project at le Cheile Family Resource Centre.
Cool Walking Group
We meet every Tuesday morning at 11 am. Nice brisk pace, good chat and great opportunity to meet new people and get involved in other initiatives happening at Mallow Community Health Project at Le Cheile Family Resource Centre
In order to join any of these Walking Groups you will have to register with Pauline at : 087-4335047 or email me at : chp@lecheilefrc.ie
Glen St Brendan's Walking Group
St. Brendan's walking group was established in September 2005 as part of a broader strategy of Healthactionzone (HAZ) in promoting outdoor physical activity across all HAZ areas of The North side areas of Cork City.
Operating from St. Brendan's day centre as a base to meet on Monday mornings (except for Bank Holidays) at 11am with a small number to begin with, the group now has a membership of 33 with a core group of 25-30 meeting regularly from St. Brendan's and returning thereafter for tea and a chat.
The walk usually takes about 45-60 minutes done at one's own pace including both long and shorter routes to accommodate people's needs and ability. When the group was still in its infancy Ester Aherne became a member and subsequent a coordinator of the group and has played a significant role in its maintenance and ongoing development.
Members have also been encouraged to participate in Walk Leader Training courses organised in conjunction with The Irish Heart foundation. The group has also organised and supported Meet and Mingles throughout the year where exchange visits with other walking groups from Mayfield, Church field, Blackpool, Youghal, Mallow and Fermoy meet up and have tea/scones afterwards.
Meet and Mingles also provide a forum for allied health professionals to promote upcoming events/programmes or courses with a health related focus relevant to the target group. The group has also visited other well-known locations which also reduces any boredom that might set in if one was using the same route each week such as The Lough, Lee Fields, Mahon, Tramore Valley Park, The Lifetime Lab just to name a few.
St Brendan's day centre has proved to be an ideal location for the walking group to meet because its members have also participated in the many events/activities which are organised there  throughout the year and helps members to add to their own social capacity resulting in positive health and wellbeing outcomes for all.
Blackpool Walking Group: Wednesday 2pm
Blackpool walking group meet for a brisk walk and regular chat – the group is open to new members as its first year.
Meets every Wednesday at 2 for a walk around the city-Contact: CHW
Slí Na Sláinte
The Cork City North West Slí Na Sláinte route is a 7km urban/rural looped route through Knocknaheeny, Gurranabraher, Churchfield, Farranree, Fairhill, Nashs Boreen and Hollyhill. The route begins outside the Knocknaheeny Learning Campus, opposite the Church proceeding along Harbour View Road toward Colmcille Road.
At the pedestrian crossing, cross over and you will have the option of visiting Jerry O'Sullivan Park, a Slí map board measuring the inner park walkway stands at the entrance. The route continues toward the Churchfield allotments taking care at road crossings. Turn left at the roundabout making your way straight along Knockfree Avenue and towards Knockpogue Avenue, Farranree. At Farranree Church you have the option of crossing the road at the pedestrian lights and visit Farranferris Green (Popham's Park), where you will find another map board. Continue along the route towards the Farranree Credit Union and cross the road with care at the roundabout junction making your way towards the Fair Green (The Fairfield), crossing over the road to the entrance of theFair Green where you will see another map board. The route then turns left up Fairfield Road towards Upper Fairhill. Turn right at the top of road and cross the road using the pedestrian lights. Turn right after you cross the road and continue straight until you come to a left turn up Nashs Boreen. There are several twists and turns on the route up the Boreen with an incline at the end.
Coming to the top of Nashs Boreen you will again find a map board, take a right turn at this point and continue straight with Apple Computers on your left hand side along a new stretch of roadway. Look to the Northeast on Nashs Boreen on a clear day to see Galtymore at 719m above sea level on the Tipperary/Waterford Border. At the top of Nash's Boreen look Northwest to view Teampall na gCillini – Ancient Church in Killeens a short walk from the BlackstoneBridge…it's a view of a cluster of trees from Nashs Boreen and the site of an open air mass every June. The site of 'The Croppy Boy' is a local Historical landmark close to Nashs Boreen which can ony be accessed off road through the fields. Follow the road around passing Saint Anthony's Park Estate on your right side and veer right at the roundabout near the entrance to Apple Computer. From the new road by Apple Computer look for Blarney Castle to the Northwest. Continue straight along Tadgh Barry Road. Cross at the traffic lights continuing straight and passing on your left a petrol station and NICHE Community Garden located behind the petrol station. Keep walking straight until you arrive back -at the starting point outside Knocknaheeny Learning Campus.
The Irish Heart Foundation The Irish Heart Foundation is the national charity fighting heart disease and stroke. We support, educate and train people to save lives, campaign for patients, promote positive health, support research and provide vital public information. We need your support, through donations, as a volunteer or on our training courses. Slí na Sláinte Slí na Sláinte stands for 'path to health'. Developed by the Irish Heart Foundation — the national heart and stroke charity — it's a sociable way to make walking far more enjoyable. Already, it's capturing the attention of young and old, not only in Ireland but in Europe and other parts of the world too! And no wonder, because it's a fun, healthy way for the average adult to accumulate the recommended minimum of thirty minutes of physical activity five days of the week. You'll find Slí na Sláinte walking routes all over Ireland. They are marked by bright colourful signposts which are not numbered and are situated at 1km intervals. Simply follow the km signs, set your pace to suit your enjoyment and you'll quickly feel better and get fitter. You will also experience a great sense of achievement.
New upgrade
Cork City Northwest Slí na Sláinte www.irishheart.ie Help to maintain Slí na Sláinte Please report any dangerous obstacles or missing/damaged signs to: Cork City Council 021 496 6222 Slí na Sláinte A regular programme of walking… – Keeps your heart strong – Improves muscle strength – Helps to manage your weight – Makes you feel good … but above all walking is fun! Physical Activity – Reduces risk for several chronic diseases including heart disease, stroke, high blood pressure, osteoporosis, anxiety and depression. – For health benefits you need to walk for at least 30 minutes 5 days of the week. You can accumulate the 30 minutes or more over 2 or 3 shorter sessions a day for optimum health benefits. Here are a few useful tips to enjoy your walk and keep your heart healthy. – If you're not in the habit of taking regular exercise, start slowly, enjoy being out and about and gradually build up to the recommended 30 minutes a day. – Drink a glass of water before and after your walk and don't forget, wear good, comfortable shoes. – Gradually warm up at the beginning and cool down towards the end. – Loose clothing is more comfortable and in winter choose layers rather than thick, chunky clothes. – Try to incorporate walking into your daily activities. Walk to work, to meetings or the shops. The list is endless. – If you have a history of heart trouble or other significant medical illness, talk to your doctor before you start. Stop if you experience unusual symptoms such as chest pain, dizziness or breathlessness and consult your doctor. – Why not invite your friends, family or work colleagues to join you when you go walking. – Now that you are a regular walker, get fitter and be active for at least 60 minutes a day. The Irish Heart Foundation 50 Ringsend Road, Dublin 4 T. 01 668 5001 F. 01 668 5896 E. info@irishheart.ie Heart and Stroke Helpline 1890 432 787 www.irishheart.ie www.stroke.ie
Supported by The Irish Sports Council and the HSE Supported and co-funded by The Health Action Zone areas of Farranree/ Fairhill/Gurranabraher/Churchfield and Knocknaheeny for the HSE, Nashs Boreen Environmental Group, Cork City Council and NICHE Community Health Project.