Youghal Community Health Project is a registered charity. Our aim is to improve the health outcomes of the local community through the delivery of health, wellbeing and social gain initiatives. Youghal Community Health project was established in 2013 and is managed by a local multi-agency committee. Youghal Community Health project is part of the HSE Cork North Community Work department. The project offers a range of health related groups and services, some of which include: Happy Feet walking group,Parent and Toddler groups and early years programs, after school clubs, mental health programs, older adults physical activity programs, low cost therapies, Meals on Wheels, Carers Support Group, Dementia café to name but a few. We also provide advocacy and support for people in the community through community referral. Have a look at our website to see what we have been up to!
Charity Number 22749
Happy Feet Walking Group
This is a very open and inclusive group and welcomes young and old alike. Each week we venture out on a 40 minute walk followed by a cuppa and a chat. You walk at your own pace and we always ensure you have someone to keep you company, Happy Feet meet weekly on Monday mornings at 11.00am at Green Park in Youghal.
Members of the group have participated in a number of planned national events such as Operation Transformation; Darkness Into Light; Emer Casey Walk; Cork Mini Marathon.  The group also host and travel out to 'Meet & Mingle' events; these are planned walks with other community health project walking groups in their respective areas.
Low Cost Therapies
Massage Therapy | Counselling | Play Therapy
Speak to the Community Health Worker in confidence for more information on any of these services provided at Youghal Community Health Project.
Carer's Support Group
This is a once a month social group for family carer's. Take some time out for yourself to meet with others; access support and information and get involved in tailored activities with carer's in mind. The carer;s support group is held the first Wednesday of every month from 7:30-9:30pm.
New members are always welcome please contact Community Health Worker Niamh Herbert for further information.
Yoga
Age Active Yoga runs throughout the year on Wednesday mornings. 6 week blocks for 25 euro.
9.30am Chair | 10.30am Floor
Our yoga is aimed at older adults with all fitness and yoga ability levels. practicing Yoga is great way to improve your cardio and circulatory health, muscle strength and tone and increasing energy and vitality.
Singing for the Brain Youghal
Singing for the Brain is an open weekly session where we use singing to bring people from all walks of life together in a friendly and stimulating environment; it provides a unique opportunity for people to come together and enjoy music and socialise with others in the community.   Participants benefit greatly from the wellness aspects of singing, such as reduced stress and improved mood.  No musical experience is necessary!  Singing for the Brain session are currently being held on-line via Zoom. New sessions starting on Thursday 20th January 2.30pm in January 2022.
Youghal Social Cafe
Youghal Community Health Project is delighted to announce that our monthly dementia cafe is starting back in person. The dementia cafe is open on the last Friday of the month 11am – 1pm, Holy Family Hall, Magners Hill, Youghal.
The Youghal Social Cafe is open to anyone living with a diagnosis of dementia, their family members and carers. We have a range of guest speakers  Advisor  to provide information on support and services available to you. The cafe is run by trained, experienced staff and volunteers.
Please note the cafe will be held in adherence to public health guidelines, as it is a seated afternoon tea event covid certs or proof of recovery from covid will need to be presented and face coverings are to be worn entering and exiting the premises.New members are very welcome but Pre booking is also essential for everyone. If you are interested in finding out further information on the dementia cafe contact Niamh Herbert Community Health Worker on 087 6413468.
Wellbeing Gardening
Our weekly wellbeing gardening group – The Blackwater Community Gardners meets Tuesday afternoons at Youghal Community Health Project. The groups runs from 2 -3:30pm from March to October. Improve your health by connecting with nature through planting, growing and gardening. Meet with like minded people for some fun and interesting chats while you work. All gardeners fully supported by our Community Health Worker. No gardening experience necessary.
Clap Handies Toddler Group
A weekly parent and toddler group for parents/ carers and children, which meets twice on a Tuesday morning. 9:30am-10.15am (toddlers) and 10.45am-11.30pm (babies).
Clap Handies a fun and safe social outlet for parents and babies/children. The group meet and have a cuppa and chat while the children play, music and movement at the end of each session. The group is very welcoming and supportive. The Community Health Worker can provide Information and advice relevant to child development.
Build It Buddies
A 6 week Lego program for children aged 6-10 years that runs throughout the year at Youghal Community Health Project. Build it Buddies is a fun, interactive learning program for children who are interested in Lego. Build it Buddies supports individual creativity, fine motor skills, group work and social skills. The course covers a range of different educational topics through fun challenges. Contact Niamh Herbert on 0876413468 for further information.
Bright Sparks
A learning through play programme for Parents and Toddlers aged 1-3 years. Each week there is a different play theme which benefits childrens learning and development. Topics covered include: Treasure Basket Play; Move to the Groove; Take Turns Talking; Tantalise Tiny Taste Buds; Exploring Nature; Messy Play. There is also a graduation party at the end of each course.
Bright Sparks is run in Youghal Community Health Project on Thursday mornings and Runs throughout the year. Contact Community Health Worker Niamh Hebert for further information.
Tiny Tots
A learning through play programme for babies aged 0 to 1
Tiny Tots is run in Youghal Community Health Project on Tuesday mornings and Runs throughout the year. Contact Community Health Worker Niamh Hebert for further information.
Cycling with Confidence
Summer 2021 Youghal Community Health Project were delighted to collaborate with Corks Sports Partnership and Youghal Active Retirement Association to bring the Cycling with Confidence program to Youghal. Everyone gave it their best effort, from learning to cycle, gaining confidence, skills and experience, everyone progressed in their own way. A job well done!
Youghal Community Health Project are proud annual supporters of Cork Bike Week, if you are interested in hearing more about any of our upcoming 2022 cycling programs please contact Niamh Herbert on 0876413468.
Activator Poles
ACTIVATOR poles are an adaptation of Nordic Walking poles and have been developed by Canadian therapists to promote balance and improve mobility. This Programme focuses on promoting long term fitness and independence through increasing balance and functionality with the use of Activator Poles. A skilled tutor will teach participants how to safely and effectively use the Activator Poles to aid their walking, strength and balance
Youghal Virtual Orienteering
Youghal Community Health Project in association with Cork Sports Partnership and Cork County Council have worked together to bring this sporting initiative to Youghal. The virtual maps can be used to develop map skills and to integrate it with digital technology. We encourage you to use MapRun 6 to discover these courses.
The Youghal virtual orienteering course is based in the town centre with the Tourist Office at the starting point. The course is made up of 6 courses which are of varying technical and physical levels, suitable to a diverse range of abilities and ages. The aim of each course is to navigate around a series of controls and collect points as you reach each one, however, there are no physical markers on the ground, it is all done via the MapRun6 app. The app allows participants to also find events such as community lead challenges or virtually complete courses with friends or classmates– for those who like a bit of competition.
For further information please contact Youghal Community Health worker on Niamh.herbert@hse.ie or 0876413468
For more information click on the link below
Women's Health Initiatives
As part of Community Health month 2021 the Cork North Community Work Department developed a webinar based on The Menopause. This live webinar had presentations from three health professionals from Cork. Presentations were given from a Cork GP, a pharmacist and a dietician, each with their own unique perspective and guidance on the topic. Please watch the full video on our youtube channel through the link in the box below.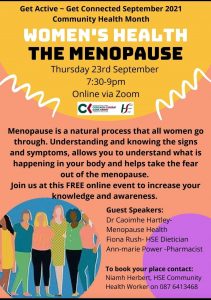 Men's Health Initiatives
To mark world health day October 2021 Youghal community Health project brought tthis wonderful 'hands-on' workshop to Youghal, teaching local men how to make and play a bodhrán. The participants wewas supplied all the materials to make a complete bodhrán (ie frame, goatskin, crossbars tacks etc) in their mission is to complete a bodhrán. After the bodhrán is complete the participants were shown how to personalise their bodhrán with a design of their choice followed by a lesson on Jigs and reels. A great day was had by all.
Youghal Blue and Green Network
Youghal Community Health project are delighted to be on the Youghal Blue and Green committee alongside other local community groups and interested individuals.The committee aims to work together in order to strengthen and support each other's work in relation to responding climate change; enhancing biodiversity; ensuring clean beaches, healthy marine and coastal life while being sensitive and careful of our wildlife, woodlands and green environments. To do this through collaborating with each other and with agencies concerned with Youghal. To attract larger scale resources to deliver on our vision for Youghal. To promote the reduction of carbon emissions, renewable energy and support the development of clean energy efficient communities. To build greater awareness across the whole community of Youghal and bring all citizens with us  To share information, work together and agree on priorities for the Network.
For more information follow our blog. Link below!
https://youghalblueandgreennetwork.blogspot.com/
Facebook @Youghal Community Health Project
Keep well, keep movin' health festival, 8th March, register here -> https://www.eventbrite.ie/e/keep-well-keep-moving-health-festival-midleton-tickets-524664053307
If you are finding it hard to manage your stress levels, take a look at our Stress Control online programme. It offers 6 free sessions of support & learning for your mental health & wellbeing. Learn m ...
We are celebrating communities through singing and dancing Friday February 24th. All welcome - register details on poster.
Roches Buildings are looking for a CE worker. Great opportunity for anyone especially living in the locality.
Fantastic community programme running by Cork Sports Partnership to book PHONE
021 4347096 email info@corksports.ie
Please ensure you cut grapes for children correctly.. thinking of the little boy who passed away in West Cork this week.. prayers and thoughts are with his family xx
Congratulations to Tony Linehan of Linehan's sweets on jointly Cork Person of the Year. A great achievement.
#shandonstreetfestival
Myself and bernard at the pride of place of place awards last night.It was lovely to accept an award with bernard on behalf of all the hard work everyone has put into the garden by everyone involved
If you are living in the Roches Buildings or surrounding areas we have a lot of health and social activities taking place over the coming months. Contact Liz Madden community health worker with questi ...
The Strollers Walking Group braved the elements this morning for our weekly walk . If you would like to join us contact Pauline O Grady-Noonan, Mallow Community Health Worker at 087-4335047 OR Email c ...
Midleton Mens Shed are holding a FREE mens health check.
When: Friday 27th January 2023 from 11:00am - 1:00pm
Where: Midleton Mens Shed; P25K3K2
For more information contact Tim on 086 8545341
If you are thinking of trying a new activity the Blackpool walking group meet every Wednesday 2pm. All welcome. Please call before you attend. See events planned for the coming weeks on poster.
We will be making Brigid's crosses on Monday 30th January. Roches Buildings Committee member Sr Patricia O Donovan will explain the history of St. Brigid's Cross. All members of the community welcome ...
Mayfield Library Here We Come!!! We'll be in Mayfield for 4 Wednesdays at 3.30pm!!
Jan 18th, 25th
Feb 1st & Feb 8th
Activities happening at Mallow Community Health Project from January to March 2023.
To register, please contact Pauline O Grady-Noonan, Mallow Community Health Worker. 087 4335047 or Email : chp@lech ...
We are recruiting for a full time worker please forward cv to Orla varian glencommunitycreche@gmail.com
If you are a knitter and would like to get involved with a knitting group in Blackpool, Mayfield or online then ring Liz Madden 087-6977942 who will give you more information.
Health Action Zone and Blackpool Community Centre are starting off the year Mindfully. Join us for Mindfulness with Mandy starting January 17th. No Charge - places limited, must book with Liz Madden 0 ...
Please note all HAZ Activities will resume from Monday 9th January.
St. Brendans walking group Monday 11am St. Brendans day centre
Cuddles and Chats Tuesday 10th from 10.30-12.30 The Glen Resource cen ...
Looking to try something new in 2023? Try a taster of Tai Chi and Qi Gong with the Shandon Street Mens Shed supported by the Health Action zone. Contact Liz Madden to register 087-6977942