Youghal  Community Health Project is a social gain initiative aimed at improving community health and wellbeing.  The community health projects conducts a hive of activities ranging from "Caring for Carers", "Building Buddies for Kids", Parent and Toddler groups, "Happy Feet" walking group, Mental Health and Wellbeing Program, Dementia Cafe and Singing for the Brain. Youghal Community Health Project also operates the Meals on Wheels service locally.
Singing for the Brain
Singing for the Brain is an open weekly session where we use singing to bring people from all walks of life together in a friendly and stimulating environment; it provides a unique opportunity for people to come together and enjoy music and socialise with others in the community.   Participants benefit greatly from the wellness aspects of singing, such as reduced stress and improved mood.  No musical experience is necessary!  Singing for the Brain session are currently being held on-line via Zoom.
Mindfulness
Mindfulness is about being aware of the present moment, learning to let go of issues in your past and not focusing on what may or may not happen in the future.  It also helps us become more aware of our thoughts and feelings, enabling us to manage them rather than allow them overwhelm us.  Mindfulness is of particular benefit in dealing with anxiety, stress and depression.
Carers Support Group
This is a once a month social group for family carers. Take some time for yourself to meet with others; access support and information and get involved in tailored activities with carers in mind. The carers support group is held the first Wednesday of every month from 7:30-9:30pm.
Wellbeing Gardening
Weekly wellbeing gardening group which meets Tuesday afternoons 2-3:30pm over the Spring and Summer. Improve your health by connecting with nature through planting, growing and gardening.
Bright Sparks Learning through play
A learning through play programme for Parents and Toddlers aged 1-3 years. Each week there is a different play theme which benefits childrens learning and development. Thursday mornings and Runs throughout the year.
Build It Buddies
A 6 week Lego programme for children aged 6-10 years. Runs throughout the year.
Active Age Yoga
Yoga has many health benefits and is a gentle exercise that older adults can engage in. Our face-to-face classes are currently suspended so we are offering an online chair yoga program via zoom. This is held each Wednesday from 12pm-1pm.
Meals on Wheels
The Youghal Community Health Project runs the thrice weekly meals on wheels service which operates in Youghal, Killeagh, Castlemartyr. To find out more about Meals on Wheels speak to your public health nurse or contact 087 3851764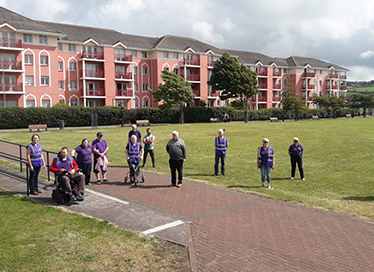 Happy Feet Walking Group
This is a very open and inclusive group and welcomes young and old alike. Each week we venture out on a 40minute walk followed by a cuppa and a chat. You walk at your own pace and we always ensure you have someone to keep you company, Happy Feet meet weekly on Monday mornings at 11.00am at the Youghal Community Health Project.
Members of the group have participated in a number of planned national events such as Operation Transformation; Darkness Into Light; Emer Casey Walk; Cork Mini Marathon.  The group also host and travel out to 'Meet & Mingle' events; these are planned walks with other community health project walking groups in their respective areas. In 2020 the Happy Feet walking group hosted a number of virtual walk challenges and raised valuable funds for the Cardiac First Responders.
| | |
| --- | --- |
| Activity: | Description: |
| Chiropody | Community Chiropody service, by appointment only. |
| Dementia Cafe | A monthly social event for local people living with dementia. Held the last Friday of each month from 11am-1pm at the Holy Family Hall. Supported by Cork Alzheimer's Society. |
| Cook It | A 6 week nutrition education programme. |
| Baby Massage | A 5 week baby massage programme. Booking essential. |
| Massage Therapy | Available by appointment. Contact the CHW for details. |
| Subsidised Counselling | Low cost counselling provided by a counsellor and psychotherapist. Booking necessary. |
| Subsidised Play therapy | Available by appointment. Contact the CHW for details. |
| Parent and Toddler | A weekly social group for Parents and Babies/Toddlers aged 0-3 years every Tuesday morning from 9.30am-10.45am and 11am-12.45am |
| Tiny Tots | A social group for Parents and Babies aged 0-1 years. Run throughout the year. |
Facebook @Youghal Community Health Project
Timeline Photos Book your place now! LTI Culinary Skills Course starts Sept 2021.
http://ow.ly/yLJ550FGlmy
YoughalOnline.com Youghal Community Health Project East Cork Discussion Group. EastCork TravellerProject Yay Cork
***2 SPACES LEFT ON THE 11AM SLOT **
For further information contact Community Health Worker Niamh on 0876413468
🚴‍♀️Cycling With Confidence Programme for Older Adults🚴‍♀️
Programme Outline:
✅ Week 1: Bike & helmet check. Basic cycle skills e.g. signaling, looking ...

Cork Sports Partnership
Financial Supports- Online Information Talk
On Wednesday 4th of August at 11am we will bring you a Facebook Live about financial supports right here! The talk will give you information about the main social welfare payments available to people and ...
Photos from Youghal Community Health Project's post On behalf of our Meals on Wheels Service, we would like to say a huge thank you to Youghal Business Alliance for their donation of €1,200. The money came from the proceeds of Michael Hussey's DVD 'Reflections' which was released ...
Youghal Community Health Project are delighted to be collaborating with local group Youghal Active Retirement Association and Cork Sports Partnership to bring this cycling program to Youghal this August. Places are limited and a waiting list will be formed. Contact ...
Good morning!
We have been asked to circulate the attached email from Age Action about the launch of their expanded care and repair service.
Update: dates for Youghal Pride 11th or 12th September 2021 Another date for the diary ☀️
Photos from Youghal Community Health Project's post Happy Happy Happy Feet 🌞 Youghal Community Health Project walking group Happy Feet had a wonderful summer outing this morning. The group tried out the new board walk and stopped off for a well deserved treat at Happy Bakemores at ...
The excitement is building ahead of the Team Youghal 24 hour cycle supporting Down Syndrome
Please donate if you can by clicking the following link:
http://www.idonate.ie/GerFlanagan
https://www.corkbeo.ie/news/local-news/group-east-cork-embark-24-20862000.amp
Timeline Photos Pride in the South! Cork & Youghal
https://www.cumannnadaoine.com/lgbti-holdfirm/
The support has been fantastic so far,we will be having a raffle on Wednesday 18th August .We will post once all prizes are finalized .
Thanks everyone for all the shares 👍💓
Thank you John Hennessy for your time and ...
Strategic Plan for the Traveller community in East Cork: how can you help? Strategic Plan for the Traveller community in East Cork: how can you help? July 22, 2021 by Hayley Fox-Roberts Last Saturday, the East Cork Traveller Project launched its Strategic Plan 2020-2025. This sets out both the challenges facing the Traveller ...
Places for this course is now full, but watch this space for more training courses throughout the summer!
Photos from Youghal Community Health Project's post Youghal Community Health Project are delighted to be part of the Cork Kerry HSE Winter Plan Initiative along with the North Cork Community Work Department and Health Actions Zones.
A number of our local green fingered Meals on Wheels clients ...
Have you picked up your Radio Bingo book yet? Great to see so many local businesses supporting us in our new venture. Why not pick up one while you are out and about enjoying this great weather!!😀
Youghal GAA
Timeline Photos As part of Cork Pride Festival 2021, Cork County Council Library & Arts Service will host an online talk by Jack Fitzgerald of Gender Rebels Cork on Saturday, 24th July. The talk entitled "It's No Big Deal: A Talk on ...
SunSmart - tips to help protect your skin
• Keep your living space cool. This is especially important for infants, the elderly or those with chronic health conditions (including respiratory conditions) or those who can't look after themselves.
• Keep ...
Launch of 'DASH' (Drugs, Alcohol & Sexual Health) unit at St. Finbarr's Campus in Cork. This is a joint initiative led by The Sexual Health Centre, Cork local & regional Drugs/Alcohol task force. The project is the first of its ...
Some of our Happy Feet walkers enjoyed the sunshine and scenery on this mornings walk. Remember to stay hydrated and in the shade as much as you can in this weather. Slip on a hat and slop on the sunscreen ...
Timeline Photos Some updates from Seeding the County
http://ow.ly/5tk450FwTAz
WildWork Walk at Claycastle environment, network, climate, coastal, community
Photos from Youghal Community Health Project's post East Cork Traveller Project will have their Strategic Plan Launch this Saturday. All welcome.
If you any questions and wish to contact the project please see TJ Hogan's contact information below, The launch of this report is this coming Saturday ...