Youghal  Community Health Project is a social gain initiative aimed at improving community health and wellbeing.  The community health projects conducts a hive of activities ranging from "Caring for Carers", "Building Buddies for Kids", Parent and Toddler groups, "Happy Feet" walking group, Mental Health and Wellbeing Program, Dementia Cafe and Singing for the Brain. Youghal Community Health Project also operates the Meals on Wheels service locally.
Singing for the Brain
Singing for the Brain is an open weekly session where we use singing to bring people from all walks of life together in a friendly and stimulating environment; it provides a unique opportunity for people to come together and enjoy music and socialise with others in the community.   Participants benefit greatly from the wellness aspects of singing, such as reduced stress and improved mood.  No musical experience is necessary!  Singing for the Brain session are currently being held on-line via Zoom.
Mindfulness
Mindfulness is about being aware of the present moment, learning to let go of issues in your past and not focusing on what may or may not happen in the future.  It also helps us become more aware of our thoughts and feelings, enabling us to manage them rather than allow them overwhelm us.  Mindfulness is of particular benefit in dealing with anxiety, stress and depression.
Carers Support Group
This is a once a month social group for family carers. Take some time for yourself to meet with others; access support and information and get involved in tailored activities with carers in mind. The carers support group is held the first Wednesday of every month from 7:30-9:30pm.
Wellbeing Gardening
Weekly wellbeing gardening group which meets Tuesday afternoons 2-3:30pm over the Spring and Summer. Improve your health by connecting with nature through planting, growing and gardening.
Bright Sparks Learning through play
A learning through play programme for Parents and Toddlers aged 1-3 years. Each week there is a different play theme which benefits childrens learning and development. Thursday mornings and Runs throughout the year.
Build It Buddies
A 6 week Lego programme for children aged 6-10 years. Runs throughout the year.
Active Age Yoga
Yoga has many health benefits and is a gentle exercise that older adults can engage in. Our face-to-face classes are currently suspended so we are offering an online chair yoga program via zoom. This is held each Wednesday from 12pm-1pm.
Meals on Wheels
The Youghal Community Health Project runs the thrice weekly meals on wheels service which operates in Youghal, Killeagh, Castlemartyr. To find out more about Meals on Wheels speak to your public health nurse or contact 087 3851764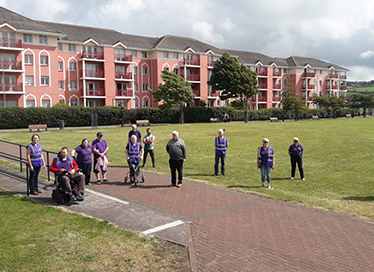 Happy Feet Walking Group
This is a very open and inclusive group and welcomes young and old alike. Each week we venture out on a 40minute walk followed by a cuppa and a chat. You walk at your own pace and we always ensure you have someone to keep you company, Happy Feet meet weekly on Monday mornings at 11.00am at the Youghal Community Health Project.
Members of the group have participated in a number of planned national events such as Operation Transformation; Darkness Into Light; Emer Casey Walk; Cork Mini Marathon.  The group also host and travel out to 'Meet & Mingle' events; these are planned walks with other community health project walking groups in their respective areas. In 2020 the Happy Feet walking group hosted a number of virtual walk challenges and raised valuable funds for the Cardiac First Responders.
| | |
| --- | --- |
| Activity: | Description: |
| Chiropody | Community Chiropody service, by appointment only. |
| Dementia Cafe | A monthly social event for local people living with dementia. Held the last Friday of each month from 11am-1pm at the Holy Family Hall. Supported by Cork Alzheimer's Society. |
| Cook It | A 6 week nutrition education programme. |
| Baby Massage | A 5 week baby massage programme. Booking essential. |
| Massage Therapy | Available by appointment. Contact the CHW for details. |
| Subsidised Counselling | Low cost counselling provided by a counsellor and psychotherapist. Booking necessary. |
| Subsidised Play therapy | Available by appointment. Contact the CHW for details. |
| Parent and Toddler | A weekly social group for Parents and Babies/Toddlers aged 0-3 years every Tuesday morning from 9.30am-10.45am and 11am-12.45am |
| Tiny Tots | A social group for Parents and Babies aged 0-1 years. Run throughout the year. |
Facebook @Youghal Community Health Project
Our in person 5-week mindfulness programme is coming back this November.... early booking advised.... a waiting list will be formed for future programmes in the new year.
Timeline Photos Young LGBT+ people - we want to hear from you!
Photos from Youghal Community Health Project's post This week sees more fab new children's, young adult and adult titles arriving in to Youghal Library including the new Sally Rooney! Exciting!
Opening hours are Tuesday to Saturday 9.30 to 5.30, open during lunch.
Photos from Youghal Community Health Project's post I LUV LEGO ❤️❤️❤️ Pretty much sums up the past 6 weeks at Build it Buddies Lego group here at Youghal Community Health Project. Congratulations to all the master builders on their creative designs over the course of the programme. ...
Photos from Youghal Community Health Project's post Well done to all of the parents and toddlers who took part in our 6 week outdoor clap handies play programme. The weather was on our side for each session but regardless, nothing was going to stop this group from ...
English for Speakers of other languages (ESOL) starting soon in our Family Resource Centre. Please see details to make contact with Kathy on 087 9711541
HSE Encourages Parents To Protect Their Children From Flu With A Free Nasal Spray Flu... The flu vaccine and administration is free for everyone aged 2 to 17 years through the HSE vaccination programme.
Message from ParknRun Youghal- for queries you can contact them directly on the link below ⬇️⬇️
What is Pobalscoil na Tríonóide parkrun?
A free, fun and friendly weekly 5k community event. Walk, jog, run, volunteer or spectate – it's up ...
Timeline Photos Hope to see you tomorrow at Youghal's Pride By The Sea 🎊 Youghal's first Pride Parade will be leaving the Town Hall at 2pm followed by a live band, picnic and fun for all ages in Green Park from 2.30pm. ...
Suicide Bereavement Liaison Service (SBLO)
If you have recently lost someone to suicide, this service can offer guidance, practical information and support at a time when your world has turned upside down.
Photos from Youghal Community Health Project's post Youghal Community Health Project were delighted to bring a hands on bodhrán making workshop to Youghal. This particular workshop was aimed towards men and participants were aged 18 up to retirement. Materials were supplied to make a bodhrán (ie frame, ...
Menopause and Mental Health Join a vibrant discussion on menopause and mental health for women of all experiences with our panel of expert speakers.
*UPDATE* Please note that this course is now fully subscribed and the waiting list is also full.
We still have some availability on our FREE Certificate in Family Caring online course, in partnership with IT Carlow, which is rolling out ...
Can you spare 60 to 90 minutes per week /fortnight /month to help us out?
Youghal Community Health Project Meals on Wheels Service is seeking new volunteers to join our delivery rotas 🚙
Our service operates Monday, Wednesdays and Friday ...
Photos from Youghal Community Health Project's post Thanks to our Happy Feet group member Paul Landers for sending in more fabulous photos of the group trip to Fota Gardens yesterday.
Photos from Youghal Community Health Project's post The day finally came for our Happy Feet walking group to take their long-awaited and well deserved day trip 🕐⏳🕰️⏱️
We had a lovely day exploring Fota Gardens, stopping off for coffee and shopping followed by a delicious lunch. We ...
Photos from Youghal Community Health Project's post Today the 10th October 2021 is #WorldMentalHealthDay The theme for World Mental Health Day from the WHO is 'Mental Health Care for All: Let's make it a reality'
Our mental health is something that should be protected all year round. ...
Timeline Photos 'Holding Hands': Spring Chickens initiative now on display at Youghal Library!
http://ow.ly/lTkS50Gok4r
Photos from Youghal Community Health Project's post We had a busy session at our Build it Buddies lego club yesterday. The theme was 'automobiles' and our little builders got very creative, their imaginations have no boundaries.
We also played our classic 'pin the head on the Lego ...
Computer Help
As we come into Autumn, the Community Council is looking at what groups and classes we can help to run.
The first one is for people who would like help with their phones, tablets or computers. It will ...
Great to see the new Sli na Slainte walk way opened around Pobalscoil Na Trionoide - it is open to our local the local community after school hours 4.30pm and at the weekends! well done all!!
Timeline Photos Sorry for the delay - the latest Seeding the County newsletter here! More updates in the coming days 🙂
http://ow.ly/RqJq50Glphe